The people who make up my practice are what I appreciate most about dentistry. I enjoy our conversations and hearing about each person's personal growth, experiences, and family.
For me, nothing is better than solving an issue that the patient may be fearful or embarrassed about in an efficient and comfortable manner, and seeing their smile when we are done. I like being able to help each person resolve their dental problems in a friendly and efficient manner: alleviating pain, restoring function, and polishing smiles.
I love hearing, "That wasn't a big deal" at the end of a procedure and knowing that because of the care offered by my team and me, the person has a more positive feeling about visiting the dentist.
All my team members have been with the practice for years. They are the reason for our success, and I respect what each brings to the office and the patient experience. My team knows our patients and treats them like close friends when they come to appointments. We see our patients as people, first and foremost, and always respect their unique situation.
Dr. Craig Johnson
Education and Professional Activities
Bachelor of Science in biotechnology, University of Kentucky
Doctorate of Dental Medicine, University of Louisville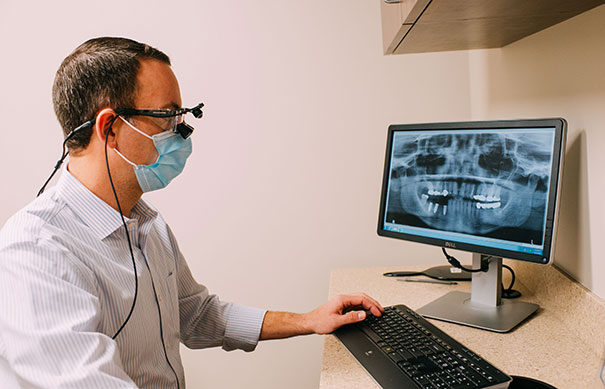 After finishing dental school, Dr. Johnson chose to complete a hospital-based general practice residency with the University of Louisville Hospital. This challenging postgraduate position provided Dr. Johnson in-depth experience and training in:
All phases of general dentistry
Safe treatment of medically compromised patients
Oral surgery
Implant planning and restoration
Anesthesia and sedation techniques
Treatment planning of complex cases
Today, Dr. Johnson focuses on continuing education that keeps him up to date on modern, proven techniques. He participates in multiple monthly study groups that feature lectures from experts in their respective fields. In addition, he attends numerous courses focused on implant and cosmetic dentistry, along with general oral healthcare techniques, research, and technologies.
Through continuing education, Dr. Johnson is able to provide patients with excellent dental care and lasting results, in a comfortable and relaxed environment.
Dr. Johnson is an active member of the Academy of General Dentistry and the American Academy of Implant Dentistry, and he volunteers with Donated Dental Services.
Beyond the Practice
A Louisville native, Dr. Johnson is proud to practice in his hometown and happy to be raising his family here. He and his wife Aimee have two young children, Conner and Gabbie, as well as French Bulldog, Melvin.
The majority of Dr. Johnson's time outside the office is spent with his family. His primary passion is being the best father and husband he can be, and he knows that requires being present in their lives and spending as much time with them as possible.
In the Community
Dr. Johnson is an Eagle Scout, and scouting has been part of his life since he was young. He has served as a board member for the Lincoln Heritage Council of the Boy Scouts of America. He knows that scouting teaches leadership skills, teamwork, and accountability, and Dr. Johnson is happy to be part of ensuring more children have access to the experience.
Dr. Johnson is also a volunteer with Donated Dental Services. This organization provides no-cost dental care to community members who are economically disadvantaged, either medically or through unfortunate circumstances. The motto of the organization is "Can You See One," and Dr. Johnson finds the care provided to these patients to be highly rewarding. He appreciates knowing that a few hours of his time can have a massive impact in a person's life.
Additionally, Dr. Johnson volunteers at the St. Matthews Farmer's Market throughout the year. The market is operated free of charge to vendors and consumers by Beargrass Christian Church.